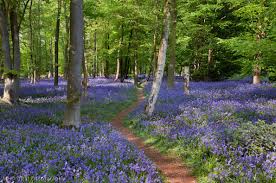 Hollington Wood will be open all day (1000-1800) for our traditional 'Bluebell Day' on the early May Bank Holiday Monday, May 4th.
Please do come along, we've lined up:
Guided walks at about 11.30am & 2.30pm
Bird-ringing (mostly in the morning but Nick may be persuaded to carry on into the afternoon);

Bee observation hive with Jeff around to talk bee-keeping in the afternoon;

Jess's kids adventures at the bell tent all day;

Admire the new privacy screen to our composting loos(!!!);

Ro Bailey will be exhibiting his wonderful woodcraft;

Our beautiful Indian firebowls and accessories will be on display and available to purchase on the day;

Read/discuss/ comment on our new 10 year management plan;

and, of course, wander and explore when the bluebells are at their absolute peak…
Refreshments will include a wide variety of home-made/cooked fare (incl. nettle soup and primrose wine as long as it lasts) but more normal stuff like hot dogs and cakes will also be available;
Don't rely on it but the weather even looks OK – mainly dry & bright they are saying – but it might be quite chilly and dodgy later in the afternoon.
Some Car Parking spaces still available but these need to e booked in advance (through Philip 07762 441275).
More details to be posted here and on  https://www.facebook.com/hollingtonwood
Admission is free but we would appreciate donations to help with the upkeep of the wood (suggested donation of £5 for individuals and £10 for families).
Absolutely no parking on the grass verge of the farm road please – it caused us a big problem last year!
For those who haven't been before the main entrance to Hollington Wood (MK46 5JH) is halfway along the private road to Wood Farm/Ekeney House off the A509 between Emberton and Sherington. The nearest public road parking is Prospect Place, Emberton.
Fingers crossed that the weather stays gorgeous!
Philip (07762 441275) & John (07895 760343)