For this year's Late Summer Open Day at the wood on Bank Holiday Monday, 29th August, we are putting on taster Airsoft sessions (for the unitiated that means war games with bio-degradable pellets). Carlos Williams of www.specialopshq.co.uk will be running 4 sessions through the day. Numbers for each session are limited so to avoid disappointment will need to be booked in advance. Timings and booking details at the end of this post.
For pacifists, nature lovers and the generally more sedate the wood will open for all to roam (except for 'The War Zone' in the northeast corner of the wood!) from 10am-5pm. Hot & cold drinks will be available but not food so by all means bring a picnic.
Admission to the wood is free but parking on site will be charged and must be booked in advance through Philip on 07762 441275 or info@hollingtonwood.com. The nearest free parking is at Prospect Place, Emberton (approx 15 mins walk away).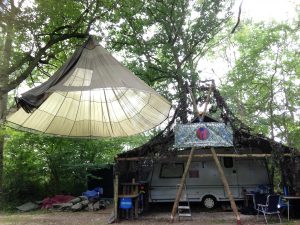 AIRSOFT SESSIONS
4 one-hour sessions are planned to run at 10am, 12noon, 2pm & 4pm. Minimum age 11 yrs. The sessions are free but Carlos would like a donation to cover his costs (suggested donation £5 per person).
To book a place, ring Carlos on 07904 987773 or e-mail info@specialopshq.co.uk.