Description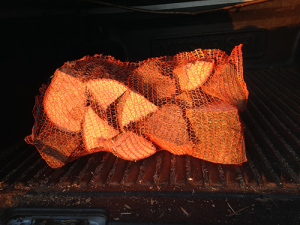 New for 2017! Small bags of 12 logs, available to collect from the wood.
Order as many bags as you think you can carry.
FIREWOOD
Our wood fuel is exclusively high quality locally indigenous hardwood, the bulk of which is generated from the thinning of ancient multi-stemmed trees. A typical load will comprise at least 80% ash. The remainder may include oak, field maple, hawthorn and/or hazel.
After felling and splitting the previous year, the wood is left to season in 1m lengths. Orders are then cut straight into the back of the truck for delivery enabling the logs to be cut to your preferred length.
Collection only
Once you place your order please get in contact to arrange collection.
WOOD PRODUCTS
All our trees are sustainably cut in accordance with our Natural England Higher Level Country Stewardship certification. In plain English that means every tree is felled for a purpose in line with our Forestry Commission-approved Woodland Management Plan. The prime aim of the plan is to enhance the health and ecological diversity of the wood.